David Berezan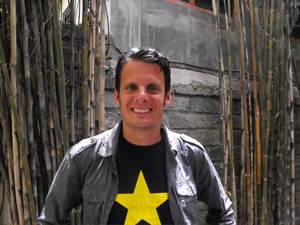 Composer 
Director of the Electroacoustic Music Studios and MANTIS
Senior Lecturer in Electroacoustic Music
University of Manchester
Of all the things that I have learned about my own music, the notions of revealing and discovery seem the most essential. There are two sides of myself at work here, in co-operation, and sometimes in conflict, in the creation of the pieces presented on this disc.
On the one hand, I search for sound sources that are sonically appealing, and that I connect with on a personal and tangible level in their real-world and everyday setting. On the other, through processes of transformation, reconstruction and imagination, I create and reveal hidden spaces, characters and substance from those sources. Within, underneath and behind the sound objects and concepts there are often unexpected sound worlds in terms of detail, colour and dynamic. 
For me, this multi-faceted aural-vision that twists, turns and opens into itself is the magic of the art form. It is also through this process of discovering the hidden side (la face cachée) that I discover as much about myself. 
(David Berezan, la face cachée, empreintes DIGITALes, 2008)
My music is published by empreintes DIGITALes (Montreal): 
http://www.electrocd.com/en/bio/berezan_da/
(the above site includes a list of works, audio extracts, reviews etc)
I am composer and lecturer at the University of Manchester (UK): 
http://www.novars.manchester.ac.uk/
I am Director of MANTIS:
http://www.novars.manchester.ac.uk/mantis/overview/index.html
I am on MySpace: 
http://www.myspace.com/davidberezan
(the above contains a blog)
http://www.myspace.com/berezanvine
Biography (from empreintes DIGITALes):
After completing a BA in History (1988) at the University of Calgary, a Diploma in Composition (1996) at Grant MacEwan College (Edmonton) and a MMus in Composition (2000) at the University of Calgary, David Berezan moved to the UK and completed a PhD in Electroacoustic Composition (2003) at the University of Birmingham (UK) with Jonty Harrison.
He has composed works for solo instruments and ensembles, electronics and instruments, solo electronics, and collaborative interdisciplinary work, but his primary focus is acousmatic music. He is also a practitioner and proponent of sound diffusion performance and the interpretation of fixed-media work.
David Berezan has been awarded in the Bourges (France, 2002), Luigi Russolo (Italy, 2002), Radio Magyar (Hungary, 2001), São Paulo (Brazil, 2003, '05), L'espace du son (Belgium, 2002) and JTTP (Canada, 2000) competitions. In addition to frequent concert performances of his work, his music has been broadcasted on the CBC (Canadian Broadcasting Corporation) as well as the BBC (British Broadcasting Corporation).
He has worked in residence in the studios of The Banff Centre of the Arts (Canada, 2000, 07), ZKM's Institut für Musik und Akustik (Germany, 2007), GRM (France, 2007), IMEB (France, 2007), ESB (Switzerland, 2005), and Tamagawa University (Japan, 2007).
In 2003, he was appointed Lecturer and Director of the Electroacoustic Music Studios at the University of Manchester (UK) and he founded MANTIS (Manchester Theatre in Sound) to regularly present and perform electroacoustic music, using a custom-designed multiple-loudspeaker sound diffusion system, in a series of concerts and festivals in Manchester, the UK and beyond. The Novars Research Centre for Electroacoustic Composition, Performance and Sound Art was created in 2007 as the focal point for this activity.